Big Sam and Yom Kippur Shortstop Honored by Sydney Taylor Book Awards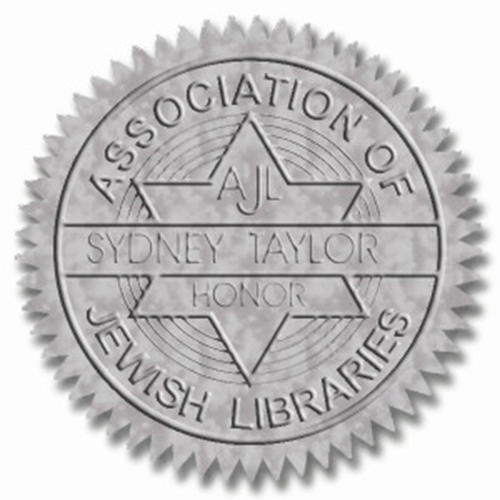 The Association of Jewish Libraries this week announced the winners of the 2018 Sydney Taylor Book Awards.
Two Apples & Honey Press books - Big Sam, by Eric Kimmel and illustrated by Jim Starr, and Yom Kippur Shortshop, by David Adler and illustrated by Andre Ceolin - were named Notable Books for Young Readers.
Named in memory of Sydney Taylor, author of the classic All-of-a-Kind Family series, the award recognizes books for children and teens that exemplify high literary standards while authentically portraying the Jewish experience. 2018 is the 50th Anniversary of the Sydney Taylor Awards. The AJL Committee recommends honored books for library, classroom, and home use.
"Big Sam is the rollicking Jewish answer to Paul Bunyan," says the Jewish Book Council. How can Big Sam make a GIANT-sized challah for Rosh Hashanah?
He digs an enormous hole in the ground to use as a mixing bowl. (It's still there today — we call it the Grand Canyon.) He adds mountains of flour, thousands of eggs, and other good things. He whittles a massive California redwood tree into a mixing spoon. He flattens the hills of West Texas as he kneads the dough. And he bakes it inside Mount Saint Helens.
But when it's time to celebrate the holiday, the eagles call out, "Not so fast, Big Sam!" Rosh Hashanah is about fixing the world, and Big Sam has some MAJOR cleaning up to do.
Author Eric A. Kimmel has written more than 100 books for children, and the winner of a Sydney Taylor Lifetime Achievement Award.
Big Sam is the first picture book for illustrator Jim Starr, whose work has appeared in numerous editorial, advertising, and corporate products. His most recognizable image is the mill in the Pepperidge Farm logo. 
Yom Kippur Shortstop tells the story of a boy who has never missed a game with his Little League baseball team. The championship game is coming up, and his team is counting on him. But then he finds out the game is scheduled on the holiday of Yom Kippur. The game is important. Yom Kippur is important, too. And Jacob has a decision to make.
Jacob's story was inspired by the Los Angeles Dodgers' star pitcher Sandy Koufax, who sat out a 1965 World Series game on Yom Kippur. He was a hero to people everywhere who have made difficult decisions in order to observe their religious holidays.
David A. Adler has written more than 250 books for young readers, including previous Sydney Taylor Book Award honored The Number on My Grandfather's Arm and Hanukkah Cookies with Sprinkles.  
Andre Ceolin is a self-taught illustrator from Brazil who started sketching around the age of four. He has illustrated more than 20 books. 
Congratulations to the other 2018 Sydney Taylor Book Award winners in the Younger Readers category: The Language of Angels: A Story About the Reinvention of Hebrew by Richard Michelson, illustrated by Karla Gudeon; Yaffa and Fatima: Shalom, Salaam adapted by Fawzia Gilani-Williams, illustrated by Chiara Fedele; and Drop by Drop: A Story of Rabbi Akiva by Jacqueline Jules, illustrated by Yevgenia Nayberg. 
Apples & Honey Press, an imprint of Behrman House, launched in 2015 and has quickly become known for its beautifully illustrated and compelling children's stories warmed by Jewish wisdom.