Values-Based Curricula to Help Kids Cope in a Complicated World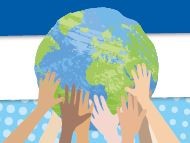 Every day children face dilemmas that could be challenging. For example, we value sh'lom bayit and expect children to do the same. What if the biggest soccer game of the season falls on Yom Kippur? How can we help others when we can't be together?
Guide students as they grapple with challenging questions with the help of Jewish values curricula, which are designed to foster deep reflection and critical thinking while exploring the role Jewish values play in life.
Here are some values curricula, each with a different approach. All include materials for students, step-by-step lesson plans, and additional resources for teacher support:
Character-Building Through Heroes (grades 4-5)
The Hero in Me is a course that helps students explore how inspirational people embody Jewish values.
From the Prophets and modern Jewish history to social activism and young contemporary heroes - each of can be a hero in our own lives and serve as a role model to inspire young people to be their best selves.
Developed in collaboration with The Museum of the Jewish People at Beit Hatfutsot, The Hero in Me consists of five booklets for students and a guide for teachers. Each booklet focuses on a different character trait: courage, kindness, creativity, curiosity and fairness.
The curriculum's goal is to build resilience in children, using storytelling as the vehicle.
The Museum of the Jewish People's exhibition "Heroes - Trailblazers of the Jewish People" encourages children and their families to discover and redefine those qualities that make a hero. The exhibition features profiles and accomplishments of Jewish historical and contemporary figures including scientists, philosophers, cultural icons, inventors, athletes, designers and more. Additional resources are available at the Behrman House: The Hero in Me website and at Beit Hatfutsot: Heroes and Trailblazers.
Sample lesson: Compare and contrast the kind acts of two Jewish heroes, Dona Gracia Nasi and Aaron Feuerstein. Show learners how to bring more kindness into their own lives.
The Hero in Me is available in both print, Kindle, and Apple book formats.
Bible Values in Action (grades 4-6)
Why do we keep telling the story of our people from one generation to the next?
Each time we tell stories from the Torah, we learn something about ourselves and our relationships. These stories also encourage critical thinking skills in our students and help them understand important Jewish values that continue to guide us today.
The Jewish Values in the Bible curricula includes two volumes that make Bible relevant: Jewish Vales in Genesis: If I Could Ask Abraham and Jewish Values in Exodus: If I Could Ask Miriam.
The journal-style format features Bible story retellings, active questioning, writing and discussion prompts, and a hands-on project.
Sample lesson 1: Explore what it means to be created in God's image," through the Creation story.
Sample lesson 2: Analyze the story of Moses and Aaron confronting Pharaoh, and discuss why justice is important and how to identify injustice.
Values in Our Everyday Lives
Living Jewish Values is a four-part curriculum that provides the foundation for an active and comprehensive exploration of sixteen core Jewish values. Each volume of this flexible series explores four values centered on essential questions.
Volume 1: Be Your Best Self. Essential questions: What does it mean to have personal dignity? How does humility help the world?
Volume 2: Building Family Connections. Essential questions: How do I show gratitude? How much is trust worth?
Volume 3: Be a Good Friend. Essential questions: How can I be a good friend? How is gossip dangerous?
Volume 4: Our Shared World. Essential questions: What is the difference between seeking justice and getting what you want? How do we show arevut to other Jewish communities?
Consult our downloadable pullout guides - organized by grade level, subject and ability - to match your needs with the best Hebrew and Jewish heritage materials for your students. Download the Judaica Planning Guide. You can find this resource - along with many others - right our home page.
---
Keep up with the latest information by subscribing to our newsletter and connect with us on social media!