Make Guests of All Backgrounds Feel Welcome at Your Seder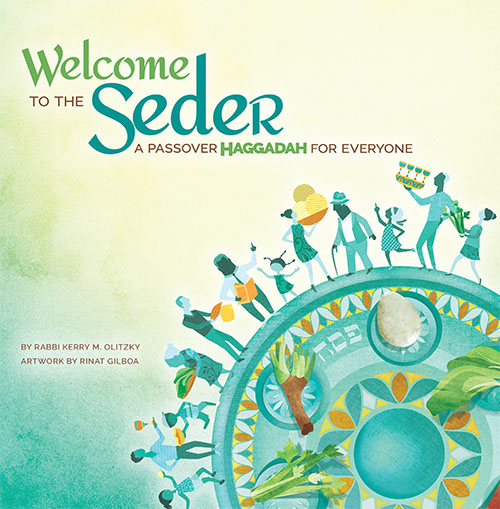 Water plays a key role in the Exodus story—the Nile carries baby Moses to safety, the Sea of Reeds splits—and of course, also in the seder.
Welcome to the Seder, by Rabbi Kerry Olitzky, highlights the seder sections focused on washing and cleansing and takes it a step further. The haggadah brings in examples of the central role water and hands plays in other cultures as a way of showing commonality with others. It honors the experiences of others and finds ways to highlight ways in which we are alike.
For example, side pieces accompanying Rochtzah (ritual hand washing) describe ritual washing in Islam, as well as an unusual seder custom in the Indian Jewish community. Before the seder, Indian Jews and guests dip their hands in red paint—a symbol of the Passover sacrifice—then press their hands onto paper to create a hamsa. Then they hang their hamsas in the room where they gather for the seder, to ward off any evil. Interesting, right?
This is one way that Welcome to the Seder invites people of all faiths and backgrounds to feel welcome at a seder. This inclusive haggadah is ideal for multicultural, interfaith, and unaffiliated families. It includes traditional seder texts supplemented by quotes, poems, readings, and stories that acknowledge, value, and include the wide range of backgrounds of seder participants today while inspiring us with a universal message of freedom.  
Find Welcome to the Seder here. 
---
Don't forget to subscribe to our newsletter and connect with us on social media!