New for Spring: Biography of Baseball Legend Hank Greenberg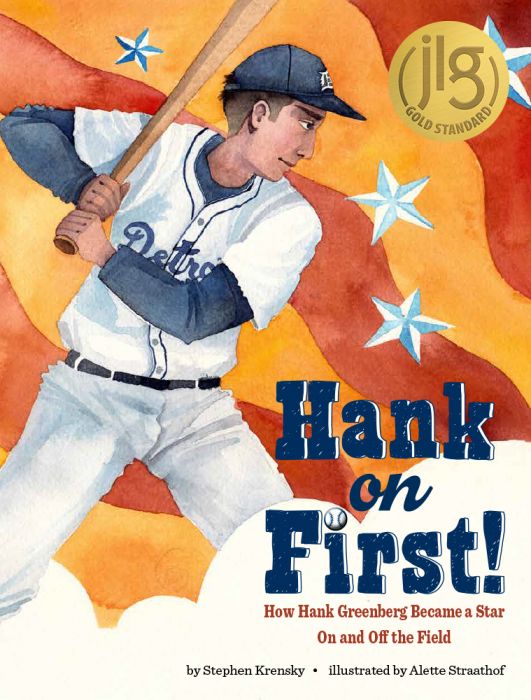 In 1934 young Hank Greenberg had his dream job--playing first base for the Detroit Tigers.
Unlike some other Jewish baseball players of that time, Hank had not changed his name to disguise his Jewishness--he was not going to pretend he was something he wasn't. But there were many people who did not want to see a Jewish baseball player on the field. They booed and jeered and called him names, and most of his teammates were just standing by and letting it happen.
But Hank knew what he liked - baseball. So he played his best, kept quiet, and let his batting average speak for him instead.
Hank on First: How Hank Greenberg Became a Star On and Off the Field, the newly published book by Stephen Krensky and illustrated by Alette Straathof, tells the story of what happened next.
In 1934, when the Tigers were leading the league, both Rosh Hashanah and Yom Kippur fell on game days. Hank consulted a local rabbi, and decided he could play on Rosh Hashanah, a day of celebration, but refused to play on Yom Kippur. He went to synagogue services instead.
The Tigers lost that game, and Hank was blamed by many fans. A poem in the newspaper, however, recognized Hank's achievements and that, despite everything, more people were coming to accept him as a Jewish baseball player.
"We shall miss him on the field and shall miss him at the bat. But he's true to his religion, and I honor him for that!"
"Hammerin" Hank Greenberg went on to become one of the greatest hitters of all time and a Baseball Hall-of-Famer.
The book includes historical photos and explains more about Hank's baseball career as the first Jewish superstar in American team sports.
A Junior Library Guild Selection
"Greenberg's example stood, and still stands, as inspirational for all players experiencing racial or religious prejudice." --Booklist