New Rosh Hashanah Tale Puts a Twist on a Legend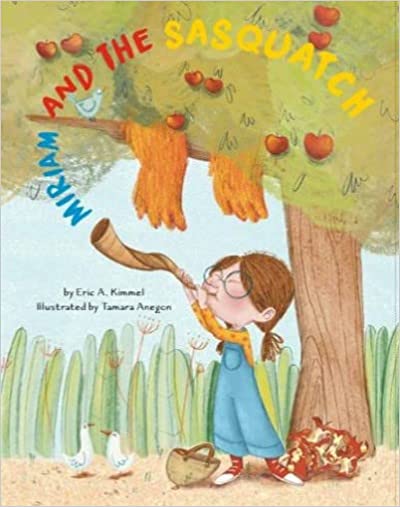 Miriam looked over the apple orchard. Autumn leaves were turning yellow and gold. The beehives were full of honey. The apples were ready for picking. Rosh Hashanah was coming.
Miriam imagined all the apples and honey on her family's holiday table, as she waited for their guests to arrive.
Miriam didn't come to the orchard just to pick apples.
She also came to practice blowing her shofar. She could practice in the orchard without hurting anyone's ears.
Miriam stood under an apple tree. She took a breath and blew. TEKIAH! SHEVARIM! TERUAH!
She heard a sound above her head. It wasn't a shofar.
Munch! Crunch! Munch! Crunch!
What was making that noise? Miriam looked up into the apple tree.
There sat a sasquatch, munching away at the apples.
Coming August 2!
Just in time for Rosh Hashanah comes a tale about first impressions and seeing things with fresh eyes, from award-winning author Eric Kimmel and illustrated by Tamara Anegon.
Join Miriam as she seeks to solve her sasquatch dilemma, and in the process learns that our initial impressions of others may be a bit mistaken.
Includes a note to readers that explains how the author got the idea for this story and a little about the legend of the sasquatch.
Eric A. Kimmel is the author of more than a hundred books for children, including the classic Hershel and the Hanukkah Goblins. He is the only author to have won the National Jewish Book Award five times—for The Chanukkah Guest, The Mysterious Guests, Wonders & Miracles, The Golem's Latkes, and Hanukkah Bear. The Association of Jewish Libraries has awarded him the Sydney Taylor Award for Lifetime Achievement. His books for Apples & Honey Press include Little Red Rosie; Big Sam, A Rosh Hashanah Tale; Right Side Up: Adventures in Chelm; and Shield of the Maccabees. He lives in Portland, Oregon.