New Graphic Novel Explores a Greek-Judean Friendship Set Against the Backdrop of Hanukkah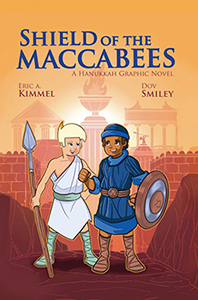 Just before the very first Hanukkah, Greeks and Jews were living in an uneasy peace in ancient Judea.
Jonathan, a Jewish boy, sees a Greek boy being attacked by bullies and stands up to defend him. They become best friends.
But when war comes to their land, Jonathan joins the Maccabees while his friend Jason joins the Greek army. They seem destined to fight one another. How will their friendship survive?
Shield of the Maccabees is a new story by award-winning author Eric Kimmel and illustrated by Dov Smiley.
The graphic novel format focuses on the history of Hanukkah, and the context of the times.
"A fun and clever twist on the story of the Maccabees."- Steve Sheinkin, author and illustrator of The Adventures of Rabbi Harvey
Hanukkah begins on November 28. Shield of the Maccabees is now available at Behrman House, Amazon, and local bookstores.
---
Keep up with the latest information by subscribing to our newsletter and connect with us on social media!