One Voice Can Make a Difference: New Biography about Labor Leader Rose Schneiderman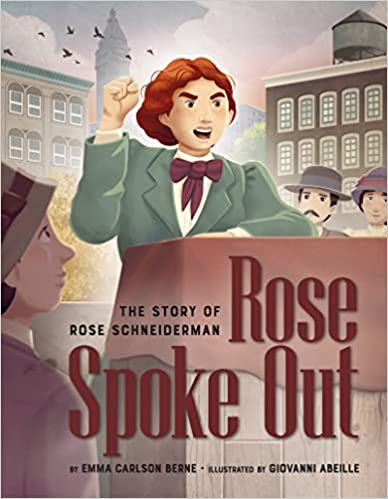 One powerful voice can effect powerful change.
An example of that truth is the story of Rose Schneiderman, a young Jewish immigrant teen who began speaking out for better working conditions in the early 20th century.
She was just thirteen years old, working in a cap factory in New York City when she noticed women workers earned much less than men and the factory wasn't safe or healthy for the workers. Rose helped organize 20,000 women to walk off the job, leaving factories all over the city empty and still. Following the Triangle Shirtwaist Factory fire in 1911, Rose's speech at the Metropolitan Opera House galvanized support for better working conditions. The International Ladies Garment Workers Union was born.
Rose Spoke Out: The Story of Rose Schneiderman, by Emma Carlson Berne and illustrated by Giovanni Abeille, also includes historical photos and bibliography, and a note to families about tikkun olam, repairing the world, a core element of Jewish tradition.
"This is a quiet, respectful, stirring look at a courageous workers' rights champion, written in straightforward, accessible prose. ...An inspiring portrait of a woman committed to making a difference and whose influence is still felt to this day. - Kirkus Reviews