Using Color to Show Emotion: An Illustrator Q&A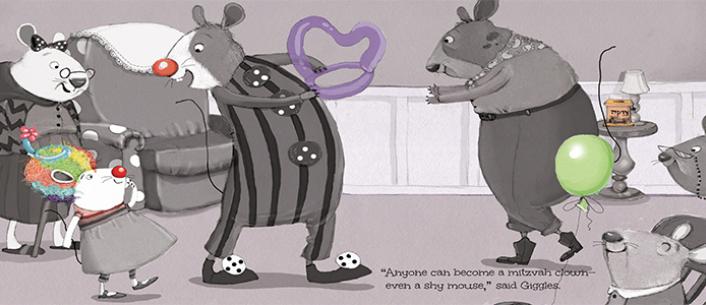 Maddie the Mitzvah Clown, a new story from Apples & Honey Press, uses cheerful illustrations that evolve from black and white to full, exuberant color. 
 Maddie discovers her confidence when she decides to become a mitzvah clown to bring smiles to the faces of Grandma and her friends. Written by Karen Rostoker-Gruber, the story begins with Maddie watching Giggles the mitzvah clown entertain seniors and moves to Maddie donning a red nose, choosing a costume and learning to make balloon animals so she can do the same.

Illustrator Christine Grove describes the creative process of bringing Maddie to life.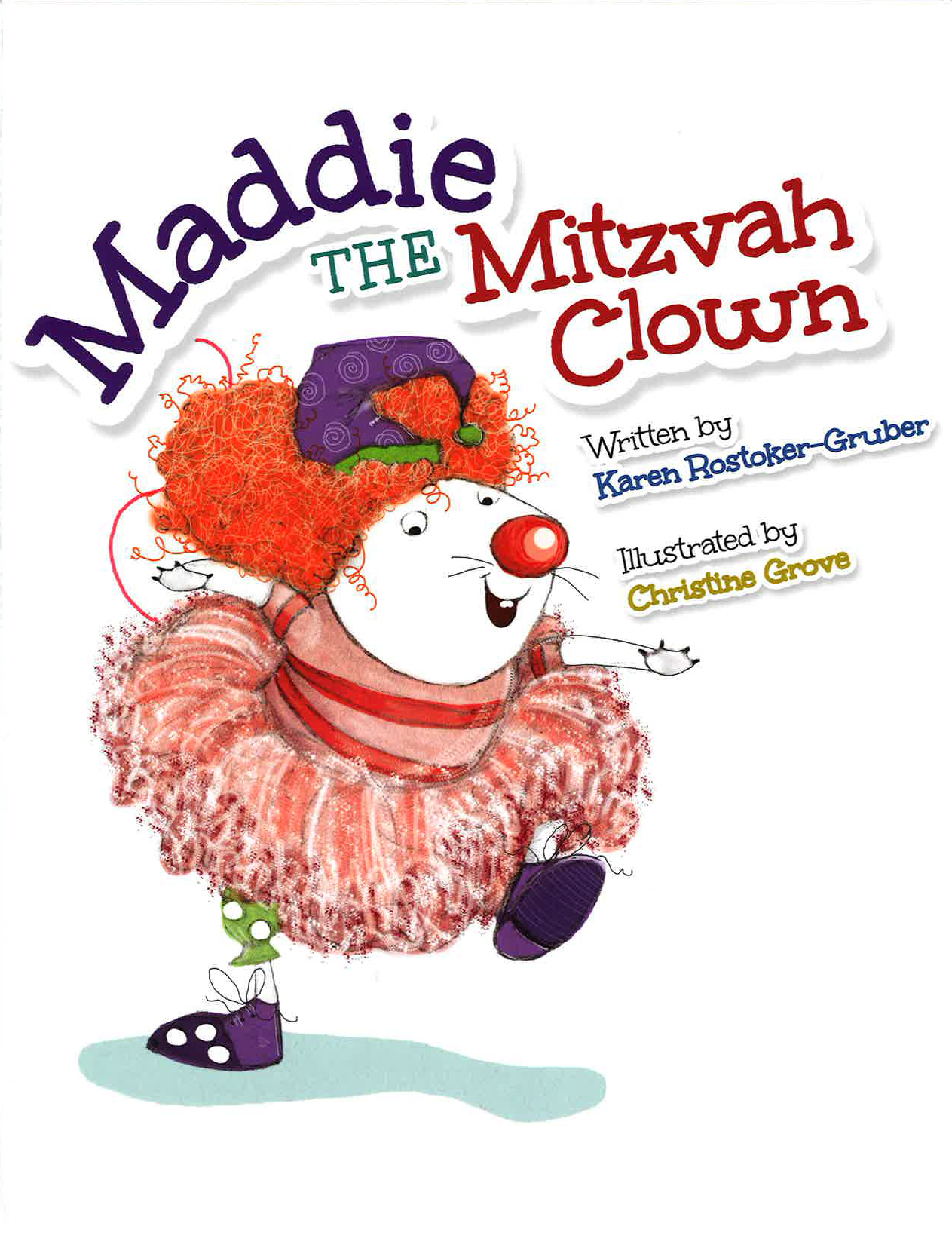 Q. How did you go about creating Maddie?
A. Reading a manuscript and then seeing her in my head - that's where the magic is. I'm super visual, but it's not always an easy process. 
I love drawing on copy paper. I filled up 10 pages of sketches of Maddie. How she started looking was not even close to how she looks now. I knew when I finally got the right look for Maddie. When I have a hard time putting it down and going to bed, that's when I know.
Q. How do you feel about the story starting in black and white and moving into full color?
A: I loved the concept and it's one of the reasons I was so excited about illustrating Maddie. It's such a cool idea to move from black and white to color. The biggest thing was figuring out where that transition would be and how to make it it feel gradual, not a harsh transition. 
Q. How did you decide what to color? What does the color represent?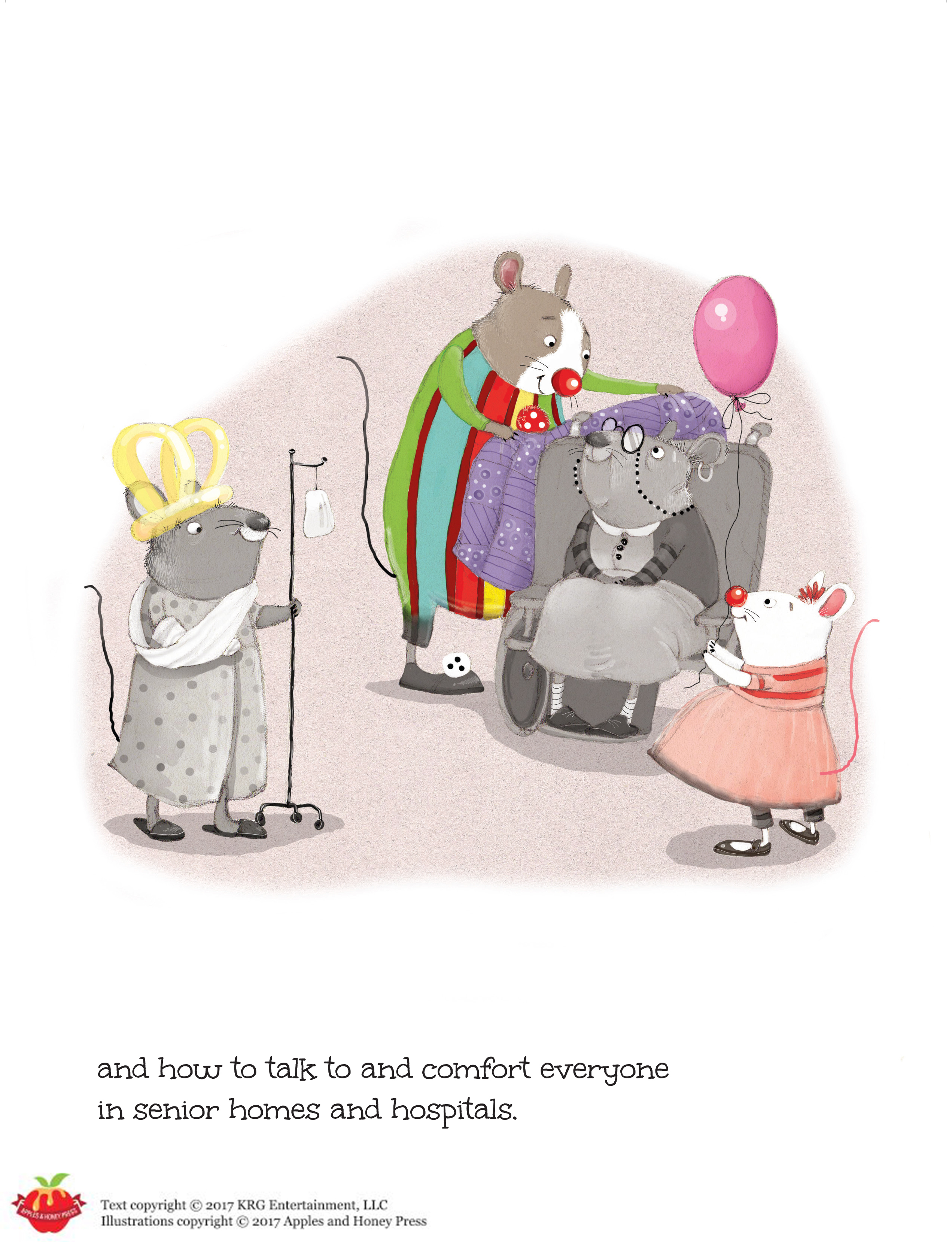 A. Once I looked over the manuscript, I initially made some notes about how introducing color would work, as I saw it.  Editor Ann Koffsky and I had a phone conference and exchanged emails to discuss this about how it was going to work best to tell Maddie's story. The beginning of the book, of course, is all black and white because Maddie hasn't yet been introduced to the idea of becoming a Mitzvah Clown and how it could change her world. Deciding to color the objects Giggles used to cheer up the nursing home residents first just made sense. Deciding how to transition into full color took a bit more doing. Ultimately having the color progress slowly down each page made the best sense.
You know how you can get a great idea or maybe see possibilities in your world that you didn't notice before? And your world seems brighter and more colorful?  That what I think the color represents: Maddie's new perspective, her shyness dissipating and her shell slowly opening. Her world literally becomes colorful as she sees those possibilities and gains confidence. And ultimately, she realizes she can make people laugh and help others feel better. What better way to help yourself than to help others!
Q. What medium did you use to create the illustrations?
A. I started with pencil sketches on copy paper and then scanned them into my computer. Then, where needed, I cleaned up the sketches in Photoshop (but not too clean!) and painted these digitally. I'm a big fan of ink linework but also really love pencil line.  Pencil line in Maddie's illustrations gives it a fluidity and an imperfect feel. Perfect lines have no movement and are boring, to me anyhow.
Q. Describe the process of doing the illustrations using a mix of color and black/white. 
A. I painted what was supposed to be in black and white and what was supposed to be in color, working in layers in Photoshop. Where the two came together I did my best to blend, so there was no harsh line. Blending was done using difference opacities for the paintbrush tool and the eraser tool.
Q. Why did you decide to become an illustrator?
A. I've been drawing for as long as I can remember. I may have been born with a pencil in my hand. I got serious about it around 2006, and went to school for an MFA. Just before I graduated, I got my first book contract! I illustrate children's books, magazines, educational pieces, and also love creating rubber stamps. Art is super fun.
Maddie the Mitzvah Clown is available now on Amazon.
---
Don't forget to subscribe to our newsletter and connect with us on social media!