Celebrate and Explore Jewish Teen Voices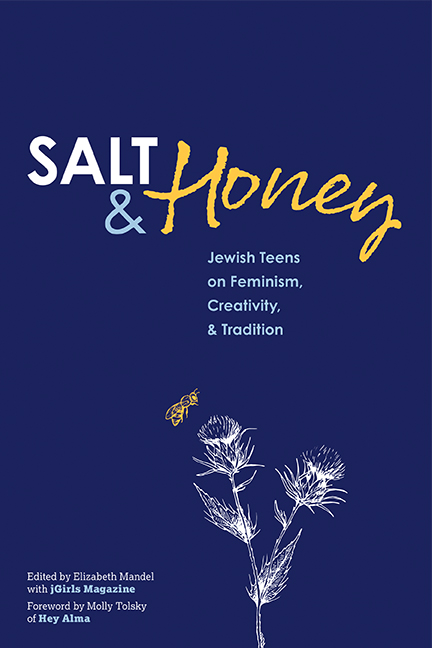 Celebrate the sprawling, complicated, glorious nature of being a teen today.
In 78 vibrant works by 62 gifted contributors, Jewish girls, young women, and nonbinary teens voice their celebrations and challenges, their anger and their eagerness in essays, poetry, and visual art. And their themes are universal, touching on childhood, spirituality, sexuality, race, family, friends, and the world around us.
Coming on August 2, Salt & Honey: Jewish Teens on Feminism, Creativity, & Tradition is a powerful anthology of Jewish teen voices in essays, poetry, and visual art.
From the contributors to jGirls Magazine, Salt & Honey gives a glimpse into the lives of young women and nonbinary teens and how they grapple with identity, family, race, religion, and gender, so we can hear their stories directly from them.
"Salt & Honey teems with the smells and images, pains and joys, memories and longings that prove that our Jewish identity is already held in spectacular trust by these voices of our future." - Dahlia Lithwick, senior editor, Slate
Want to sneak a peek? Read a sample here and here.
The stories, poems, essays, and art in Salt & Honey are ripe for exploration with their powerful imagery and prose.
The book also includes a discussion guide, written by educator Michelle Shapiro Abraham, RJE. Each chapter includes questions to explore –on your own, with a friend, or with a class or group. There are also shared activities to help students explore the pieces through their own art or writing, as well as "A Jewish Feminist Lens" that connects the pieces to the larger world of Jewish and feminist studies.
Preorder Salt & Honey: