Create a Moving Seder Experience Using Body and Mind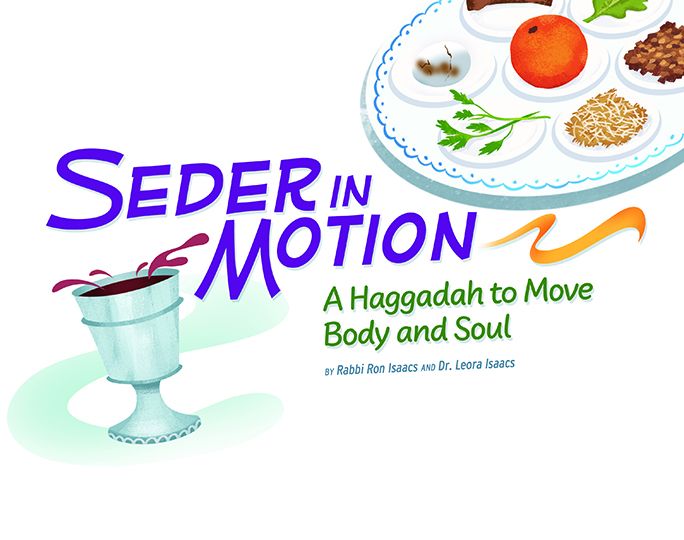 A core purpose of the Passover seder is for participants to feel a personal connection to the story of Exodus, to feel as though we personally were freed from Egypt.
Now you and your guests can fully engage with body, mind, and soul in the miracle of freedom. Seder in Motion: A Haggadah to Move Body and Soul, by Rabbi Ron Isaacs and Dr. Leora Isaacs, is a new family-friendly way to engage all five senses in the Passover story and rituals and feel the transition from slavery to freedom connection.
For example, the order of the seder is accompanied by hand motions, such as raising an imaginary cup of wine, rubbing hands together as if washing, fanning hands in front of your face as if cooling from eating bitter herbs.

As participants take the first sip of wine or grape juice, a Mindfulness Moment encourages them to inhale its aroma, swish the liquid in their mouth, and absorb its flavor and essence. They then focus on the liquid's fragrance, how it tastes, and how it warms their whole body.

When we begin to tell the Exodus story, the storytelling at the heart of the seder, participants take turns passing a hand mirror around the table to look at and visualize themselves as slaves. Then they contrast that with a feeling of freedom by standing up and stretching their arms high and gazing upward.
The haggadah also explores traditions from around the world, such as passing a plate of matzah overhead to symbolize the "passing over" and a Bukharian reenactcment of the flight from Egypt.
This first-of-its-kind Haggadah can be used with model seders and intergenerational groups in a community celebration and at home, and includes a full page of tips and techniques for engaging participants attending remotely. Specific "Connection" opportunites are also intersperesed through the haggadah.
Seder in Motion is now available from Behrman House or Amazon. Religious schools are eligible for a 5% discount. Quantity discounts are also available: save 15% off the purchase of 10 or more copies; 30% off purchase of 50 copies.


---
Keep up with the latest information by subscribing to our newsletter and connect with us on social media!