Hebrew in Harmony Helps Students Find Meaning in Mah Nishtanah
Posted:
December 27, 2017
|
|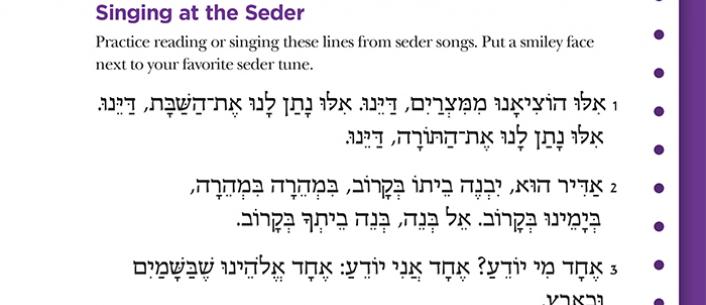 There's more to the Four Questions than listening to the youngest child sing at the seder. Hebrew in Harmony - our new prayer curriculum for students in grades 4-6 - explores the values and message underlying this Passover tradition, all while teaching the words and melody.
Mah Nishtanah is one of the 15 Hebrew in Harmony prayer modules currently available. Just in time for Passover, Mah Nishtanah offers a way to test out Hebrew in Harmony AND help students learn the words and understand its meaning. Through a student booklet, three fully scripted lessons, and a digital companion with videos, recording options and games, Mah Nishtanah focuses on:
* Hebrew reading (and singing) both the Mah Nishtanah and Passover blessings
* Understanding that stories and knowledge spring from questions
* What it means to relive the transition from slavery to freedom
* Jewish values of fighting injustice and slavery
Click here for the Mah Nishtanah student booklet and its digital companion. To learn more about Hebrew in Harmony, click here. 
*Note that the Hebrew in Harmony journals are for use with the All Digital Access Companion. Learn more about the digital product here.