Using Online Resources to Teach Israel...It's Complicated
Educating students about modern Israel is no easy task. It's the Jewish homeland, a place of both conflict and peace, both both ancient and modern.
The new Israel…It's Complicated helps your students understand and navigate this complex terrain and develop their own personal connections to the modern state. Developed in close consultation with today's top Israel educators, Israel…It's Complicated is designed for students in grades 6-7, and provides both an overview of the Jewish historical connection to the land and a portrait of today's modern Israeli culture. At the same time, Israel…It's Complicated refuses to shy away from the nuance and complexities that Israel navigates.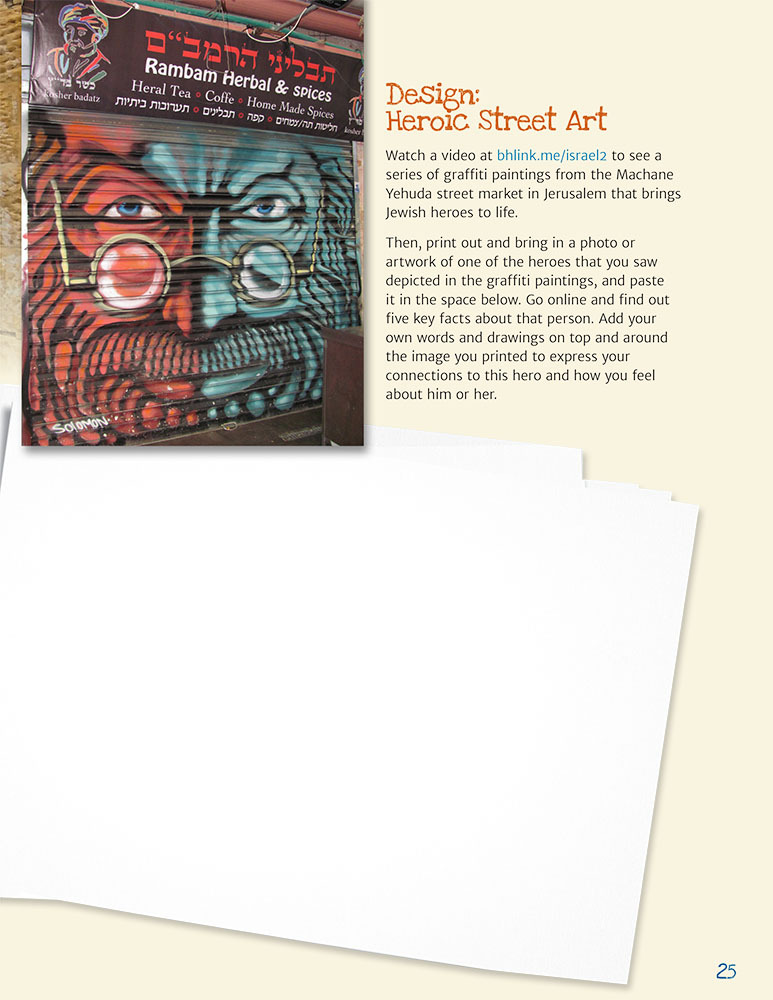 The course uses primary documents, real quotes from real people, vivid contemporary photos, and activities relevant to students lives to give them an understanding of the multifaceted place that is Israel today. A companion Teacher Resource Guide contains all the tools you need to create a rich curriculum for your students. Some of the activities in the course include videos and other digital components to enhance the learning. At the Israel...It's Complicated web page, you can find a curated collection of song lyrics, videos, movie clips, news articles, and more, each corresponding to a specific chapter.
For example, in a chapter about Israel as mix of cultures, students can watch a video to see a series of graffiti paintings from Machane Yehuda street market in Jerusalem that brings Jewish heroes to life. A chapter about Israel as a tourist destination gives students a taste of the food by examining menus from a variety of Tel Aviv restaurants. They then plan their own menu and consider the countries or cultures that influence the dishes they choose for their meal.
Use these online resources to enhance the learning in or out of class, introduce new voices and sounds, and have fun. 
---
Don't forget to subscribe to our newsletter and connect with us on social media!