Alef Bet Quest Goes Mobile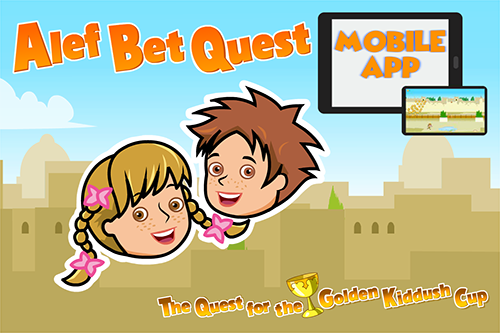 The popular app companion to the perennial classic Alef Bet Quest is now available for all mobile devices. Students can now take a digital adventure through Israel on any iOS and Android mobile device.
The decoding lessons of Alef Bet Quest Mobile App unfold against a backdrop of cultural and modern Hebrew vocabulary and are now enhanced by four new games. Accessing the digital primer is also now easier than ever before.
Use with the Alef Bet Quest book or on its own. Students can also try out their new decoding skills on read-aloud activities that let them hear the Hebrew (in American and Israeli accents) and play four different games that reinforce their skills.
Administrators, teachers, and students can now set up and sign in from the app itself. This means quicker and easier access to the digital adventure, Hebrew reading practice, and games that teach students to decode.
No more email addresses to collect or passwords to remember - the app will remember users every time using a simple one-time code.
How It Works:
• Purchase licenses for the app (one per user) from behrmanhouse.com. Make sure you're signed into your school account so that we can transfer the licenses to you. If you don't have an account, you can create one on the spot.
• Download and open the app from the Apple App Store or the Google Play StoreThe administrator or education director will be prompted to sign into the app using the school account email and password that was used to purchase the app. This is a one-time-only step.
• Set up the app.
-Open the app on your device
-Select "I don't have a code" from the bottom of the screen
-Log in with the same account email and password used to purchase the app
-Enter the class name and select "Create Class". The app will then automatically generate a short access code - ONE code for all the students in a class, and ONE code for the teachers.
-Distribute the classroom code to everyone in the class.
• Give learners access to the app.
Direct students and teachers to download the app from the Apple App Store or Google Play Store onto any mobile device. The app will prompt them to enter the class code. Students do NOT need an email address. Students will simply enter their name and then will be automatically connected to their class in the app. They will not need to remember the code.
This is a one-time only setup. The next time any student, teacher, or administrator opens the app, they will be directly in Alef Bet Quest Mobile App.
Detailed how-to instructions are available here.
---
Keep up with the latest information by subscribing to our newsletter and connect with us on social media!