How to Keep the Momentum Going After Decoding Hebrew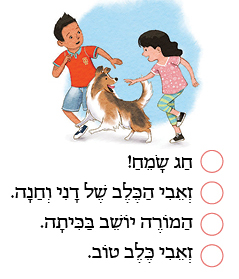 Your students have learned to decode Hebrew - great!
Now what?
Skill-and-drill practice feels tiring. Instead, build on your emerging readers' excitement and new skills by giving them opportunities to experience progress in a meaningful way.
Imagine the sense of accomplishment a learner feels when they can not only read a sentence in Hebrew, but understand it too. Or when they learn new vocabulary and can then add it to other words they know to form a sentence. Or when they win a game of tic-tac-toe by reading Hebrew words.
Shalom, Reader: 57 Hebrew Activities to Show What You Know offers the perfect fill-in for kids to consolidate their skills and take it to the next level. Think of it as a bridge between a Hebrew primer and more complex texts from a reading or prayer learning program.
Shalom, Reader introduces students to a family and its pets, and follows them through simple stories and scenarios that are familiar to children, such as holiday celebrations, school, family, time, and the weather.
"It's so nicely done in its simplicity," says Sherryl Gutes, director of education and programs at MakomNY, has been using Shalom, Reader with her third graders. "We love it."
The activities are built on simple Jewish cultural and traditional vocabulary that both repeats from chapter to chapter and grows in complexity. Each chapter of Shalom, Reader also has games to help students practice and demonstrate their Hebrew vocabulary comprehension, such as Tic-Tac-Toe, Connect the Dots, and Four-in-a-Row.
Use it at the beginning of a new school year to help review basic reading skills and introduce new readers to larger texts. It's also useful for the end of the year to allow new readers the opportunity to immediately apply their new Hebrew reading skills to interesting texts.
A downloadable teachers' guide provides specific ideas for enriching the activities, and also includes strategies for teaching the material in remote learning environments.
Shalom, Reader is now available through Behrman House, or on Amazon. Also available with turn-page access for remote learning environments.