Terry Kaye Marks 30-Year Anniversary at Behrman House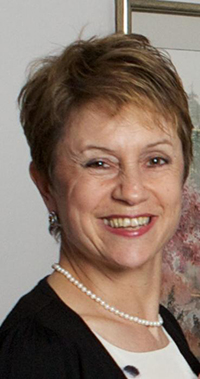 Thirty years ago, a mom with young daughters and educational training and experience joined our staff part-time to help field educators' questions about our books and other classroom materials.
She was originally from South Africa, and so most of the time callers would ask if she was British. No, she'd reply, South African. Oh, are you from Johannesburg? No, Cape Town. Oh, do you know so-and-so? Usually not, but it was fun to hear just that one side of that conversation.
Since that time Terry Kaye has become part of the fabric of Behrman House. She's left her mark on our Hebrew materials from classics such as Hineni to the more recent Hebrew in Harmony curriculum, with work on haggadot such as Seder in Motion and Essential Seder, and on a host of Judaica titles as well. She has been the face of Behrman House at conferences, training sessions, and webinars. Today she manages our print program, ensuring that our books remain available to educators and readers. But even more important is her enduring impact as a trusted advisor and friend to hundreds of educators who rely on Terry's help as they create vibrant educational experiences for Jewish children throughout North America.
I've travelled with Terry on planes, trains, and automobiles (and I remember at least one bus) as we've attended conferences around the country, as distant from our New Jersey office as San Diego, and as close as Teaneck. I've seen up close her passionate commitment to the work we do and to the Jewish community that we serve in North American and around the world.
Thank you, Terry, for all of it.